NetinDS is a distributed system, by the use of agents, that allows you to monitor big OT infrastructures and modern systems of industrial automation.
Components
What is NetinDS made of?
NetinDS WebUI
Web responsive interface, based on HTML5 and CSS3, from which it is possible to get to all the system resources and configuration options.

Microsoft Edge
Google Chrome
Mozilla Firefox
NetinDS Server
It is the core of NetinDS system, it develops all the tasks concerning agents' coordination, information storage, configuration management...
Server configuration for 200 Agents
32GB Memory RAM
4-6 Cores CPU
240GB SSD + 1TB HDD
RHEL7.x
NetinDS Agents
With hardware and software versions, they capture and manage the information from the systems and devices.
Linux & Windows x32/x64
Local WebUI
Características NetinDS
Netin Diagnostic System posee una interfaz web responsive, basada en HTML5 y CSS3, desde la que es posible acceder a todos los recursos y opciones de configuración del sistema.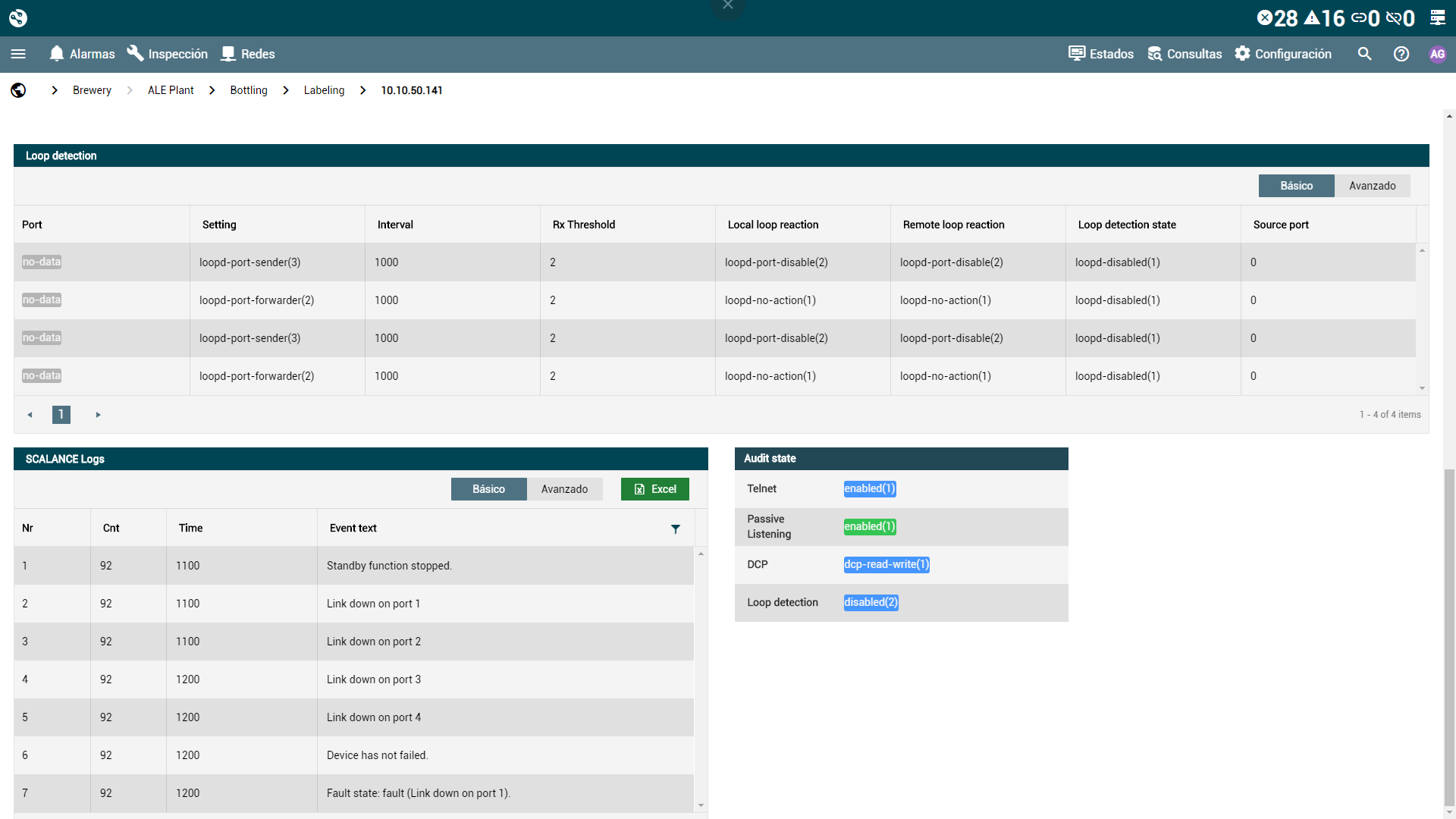 MONITORING
Watching through the industrial systems
An only tool to monitor all the elements that form your OT infrastructure, your automation facilities, your machines, your plant...
Easy access to the most important information of your systems and a simplified diagnosis by checking the state of their different elements (fieldbuses, networks, industrial devices and systems, PROFINET I/O devices, SIMATIC CPU, industrial network electronics, network topology, network traffic.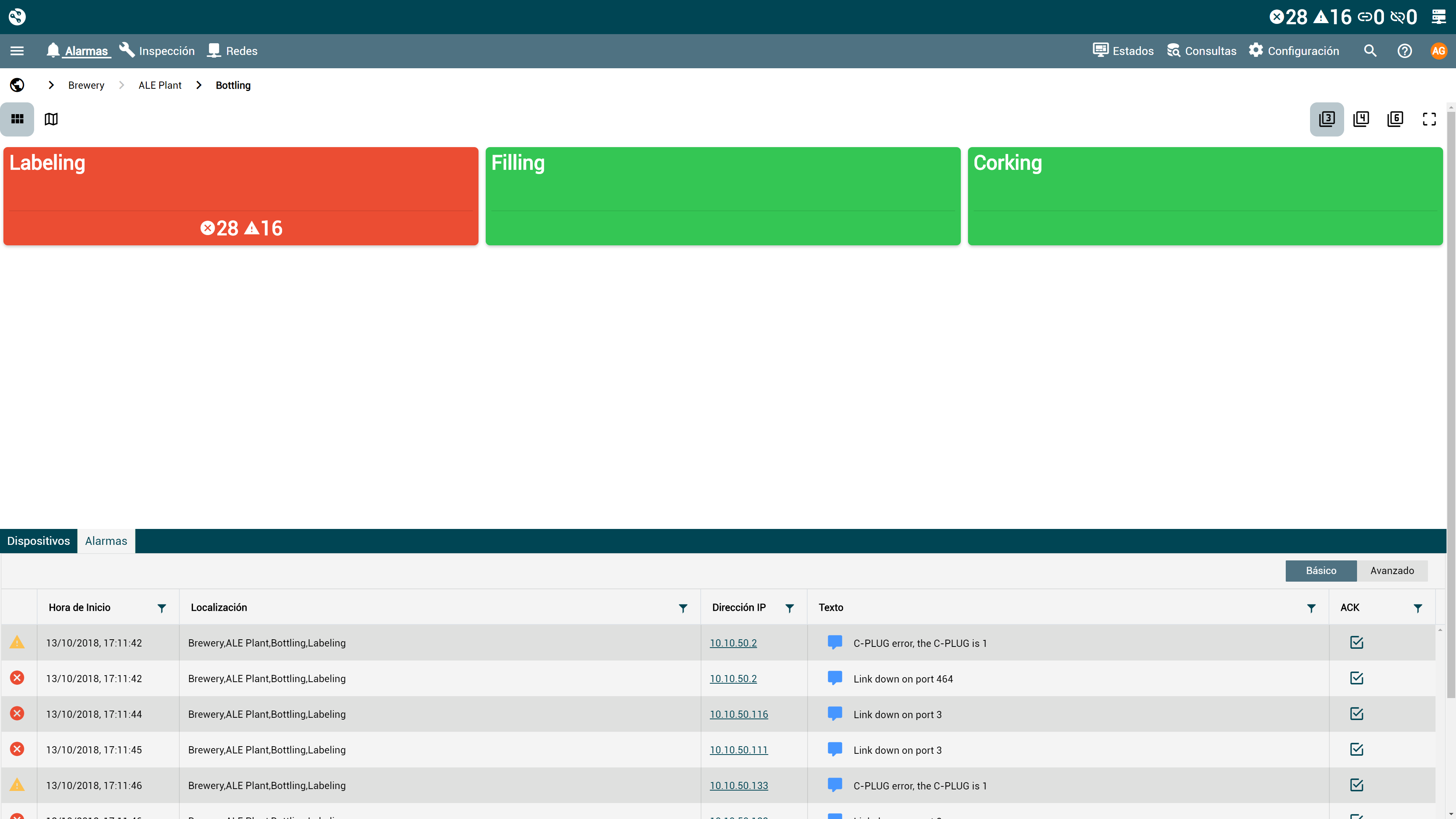 AUDITING
Audit by yourself according to your own standards
Thanks to the information got by the NetinDS Agents it is possible to automate the process to audit the hardware configuration of the equipment and systems that form your facilities and OT infrastructures, apply your own validation standards to check their compliance level, overtaking any incident and controlling your installed hardware depot efficiently, and create different validation profiles for the same equipment type, so it will be possible to apply different rules in each facility easily.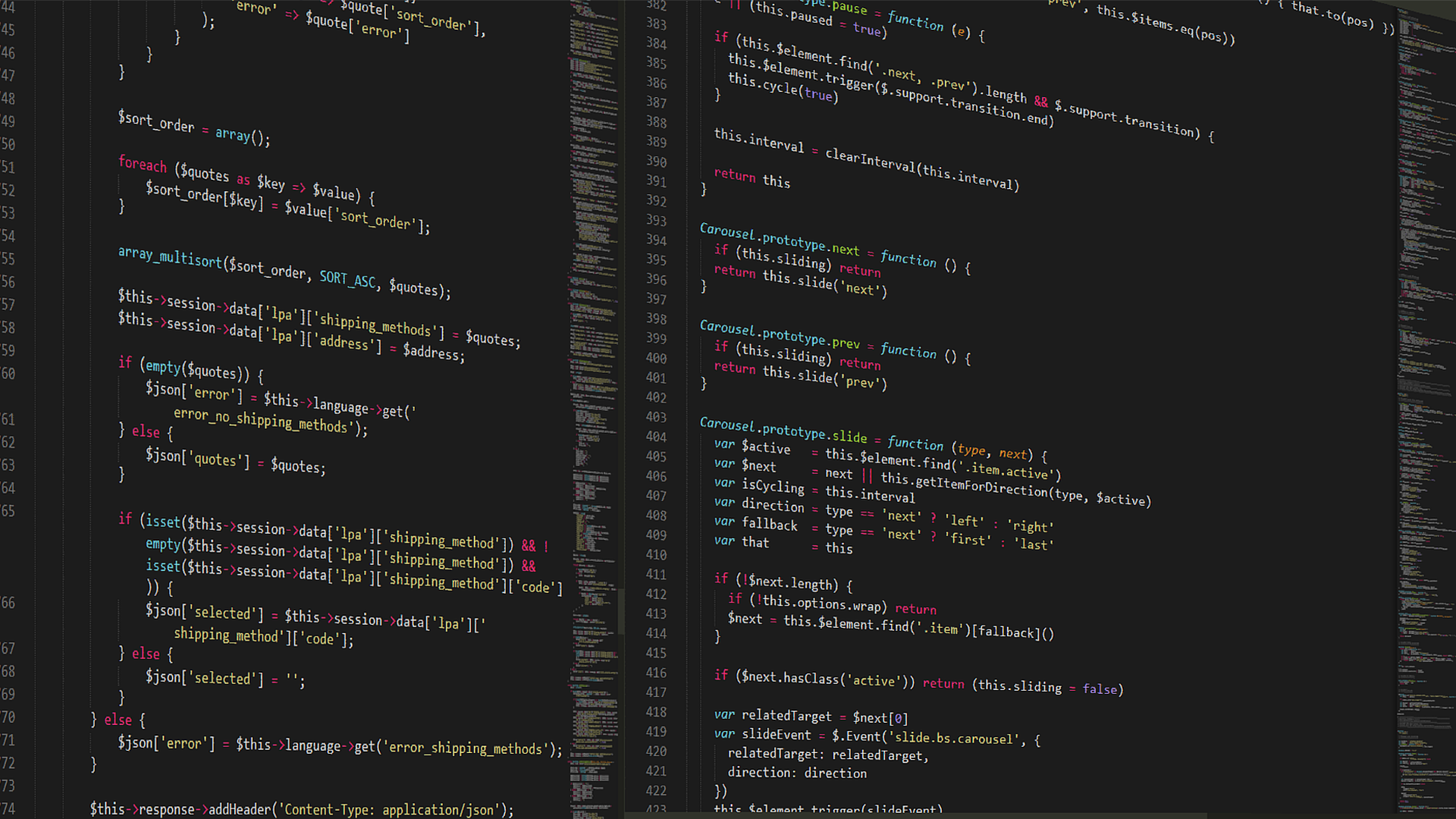 INTEGRATION
One tool, all the diagnosis
NetinDS collects the information and diagnoses the devices and systems that form the industrial facilities using the main supervision protocols of the IT fields, as much as the most well-known and extended OT standards (OPC UA Client, PROFINET Supervisor, PROFIBUS, SNMP, Simatic S7, Modbus...).
At the same time, it is possible to integrate user drivers or custom-made drivers thanks to Dzakar, the NetinDS drivers' development API.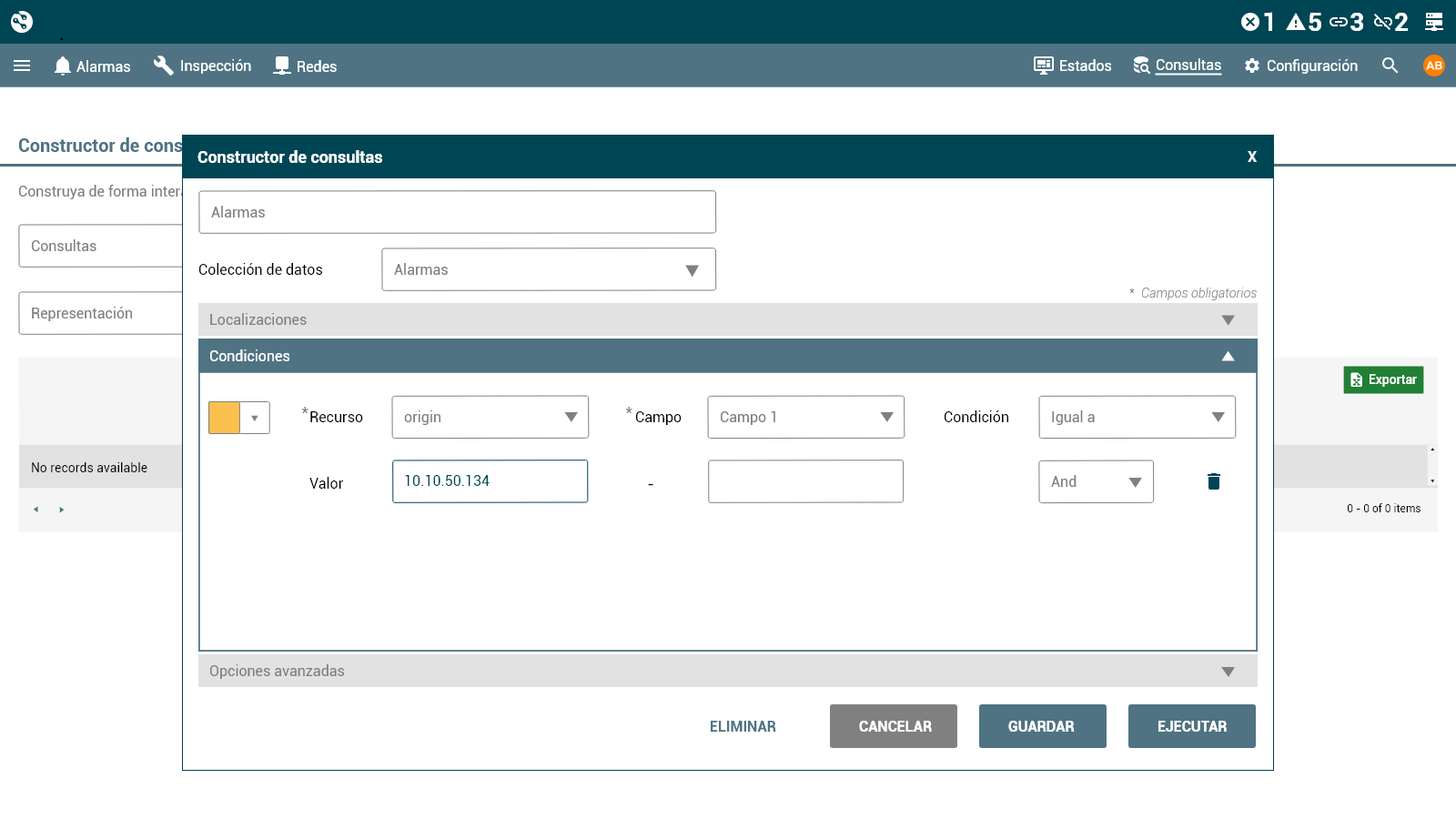 FORENSIC ANALYSIS
Know the reasons of your problems
In order to identify and solve the problems underlying reasons, NetinDS registers different events resources, controllers' events logs (Diagnostic Buffer), SNMP Traps, Syslogs user's alarms... And its powerful search engine allows you to query all that information.
NetinDS allows you to connect records and alarms from different devices, ordering them by time and setting up hierarchy links according to topologies or master-slave relations.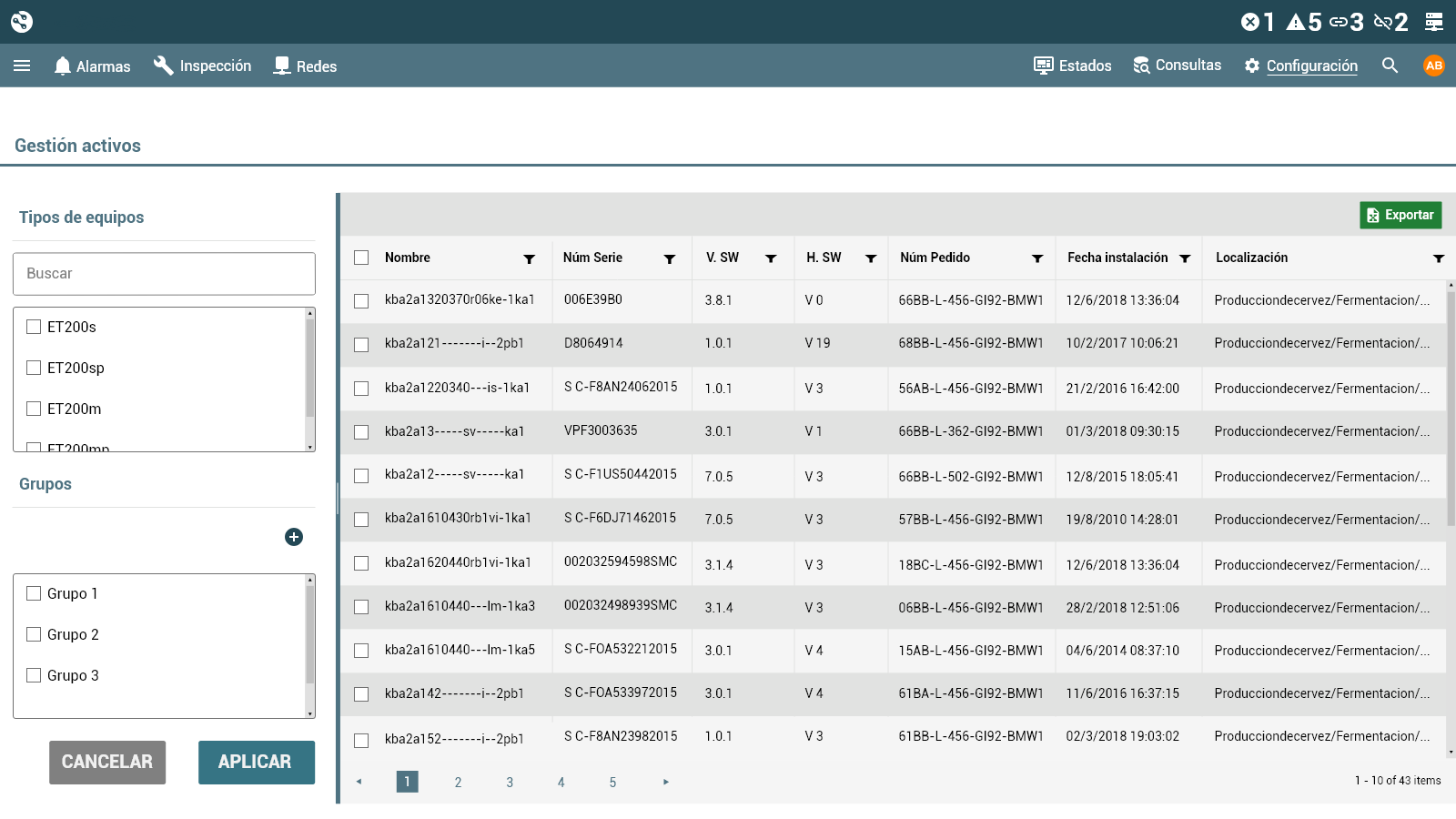 ASSETS MANAGEMENT
Trace and manage your OT stock
NetinDS allows you to automatically detect and order the assets of your facilities according to your organizational structure.
You will know references, serial numbers and identifying data of all the elements that form your facilities, even of the modules, to get the highest granularity.
It is also possible a unified and automated management of your facilities IP addressing with the NetinDS IPAM module.
WebUI:
a window to netinDS
Netin Diagnostic System has a responsive web interface, based on HTML5 and CSS3, from which it is possible to access all the system resources and configuration options.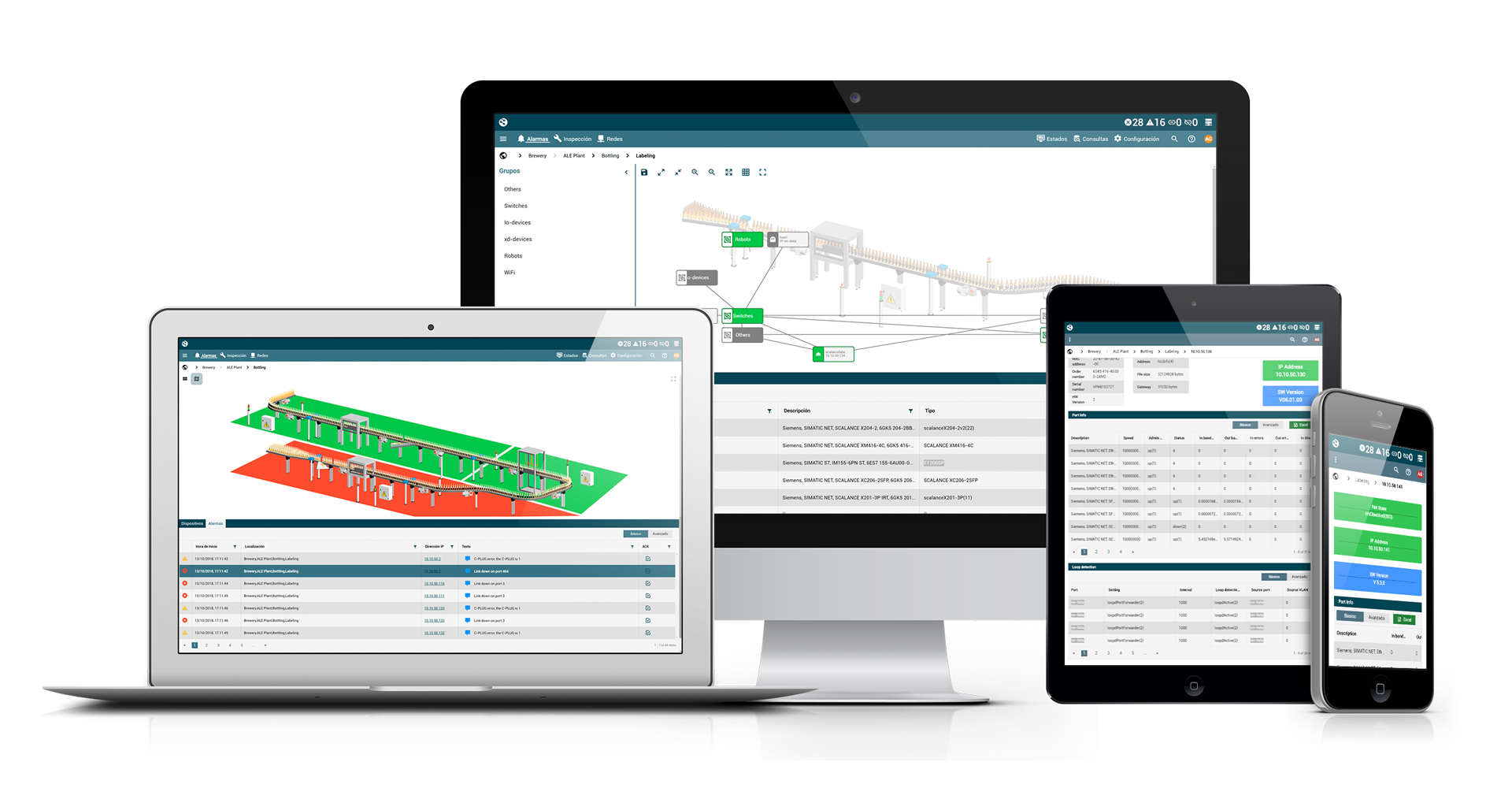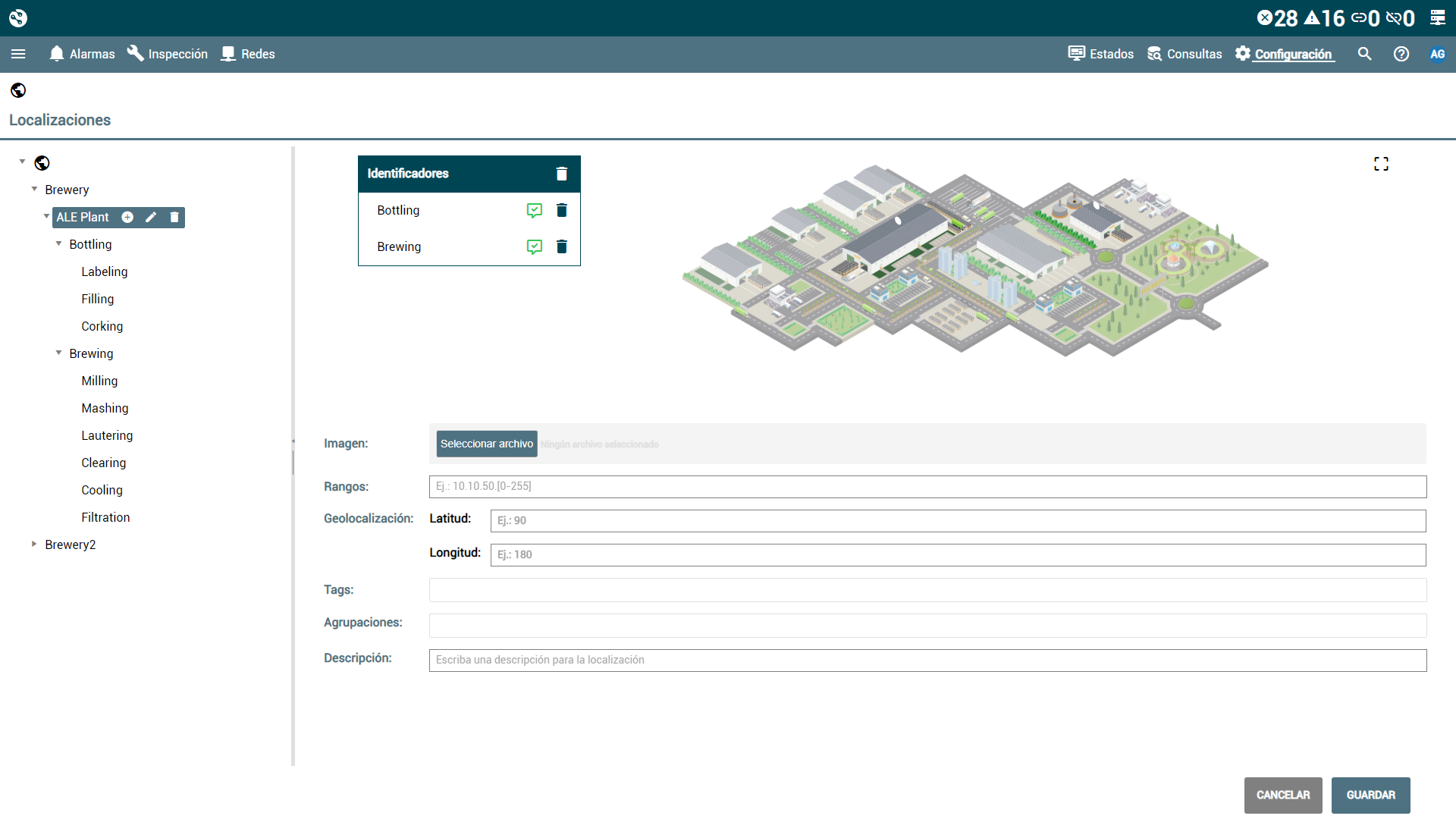 Locations hierarchy
NetinDS is ordered in a locations hierarchy system to allow the users to manage the monitoring activities in the same way they manage their facilities. Locations may include metadata, images and GPS coordinates.
An only NetinDS agent can monitor equipment from different locations, making flexible the organization of your monitoring architecture and distinguishing it from the administrative organization.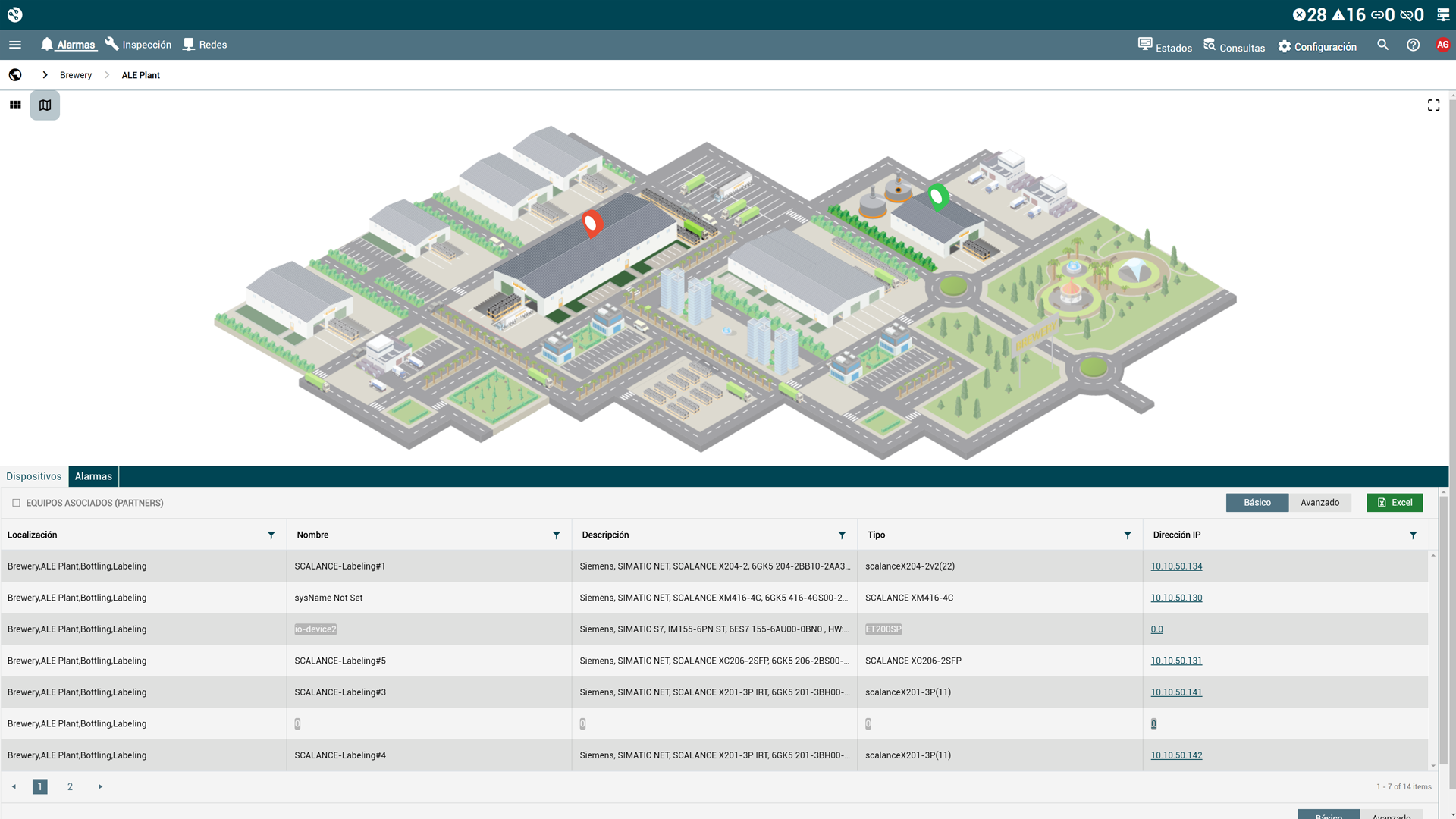 Hierarchical states display
The facilities hierarchy structure allows Netin to group the information of alarms and states to show the situation of all the facilities, not only the conditions of devices and systems in an isolated way.
The hierarchical display has two displays options: informative "cards" and graphically by uploading navigable images of your facilities.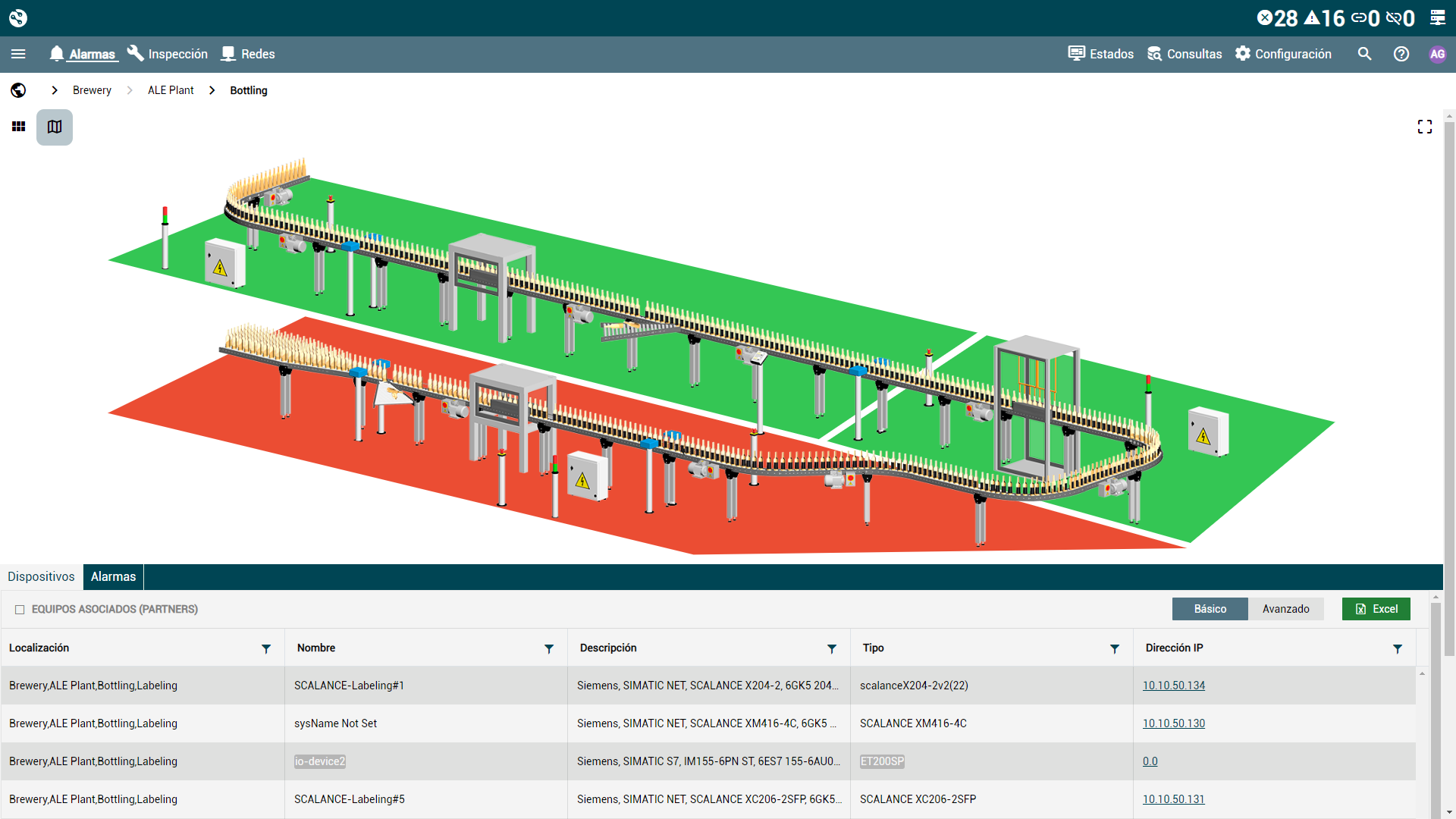 Alarms and events display
NetinDS organises alarms and notifications in different levels according to their severity and catalogue every event according to is origin (the device that caused it).
NetinDS allows you to navigate in an intelligent way between "partners" because it identifies the devices relations by hierarchy inside the fieldbus or by network topology.
The NetinDS navigation is designed to change, in a quick and easy way, from the display of different alarms types by role or process, to manage the solution of a problem or verify the observance of a specific facility.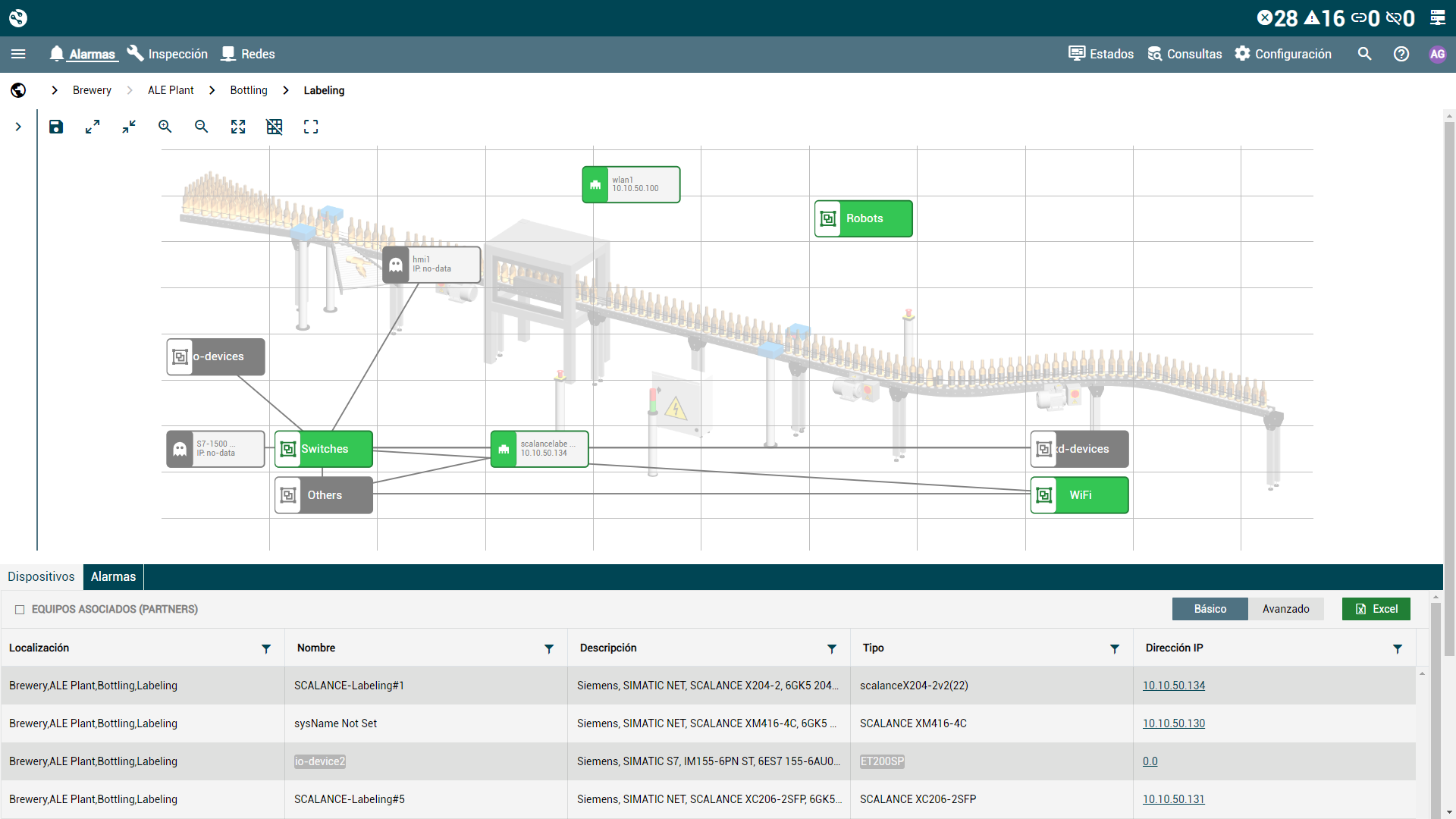 Monitor all the equipment in your network
The alarms and devices in NetinDS can be catalogued by "facilities", so it is possible to discern for each localization which alarms belong to the communications infrastructure or to the industrial network.
NetinDS has a specific display mode for the industrial network interfaces which allows identify and visualise malfunctions or deviations in the network interfaces behaviour, the main links of the localization to focus on them and their visualization, and the records produce by network equipment.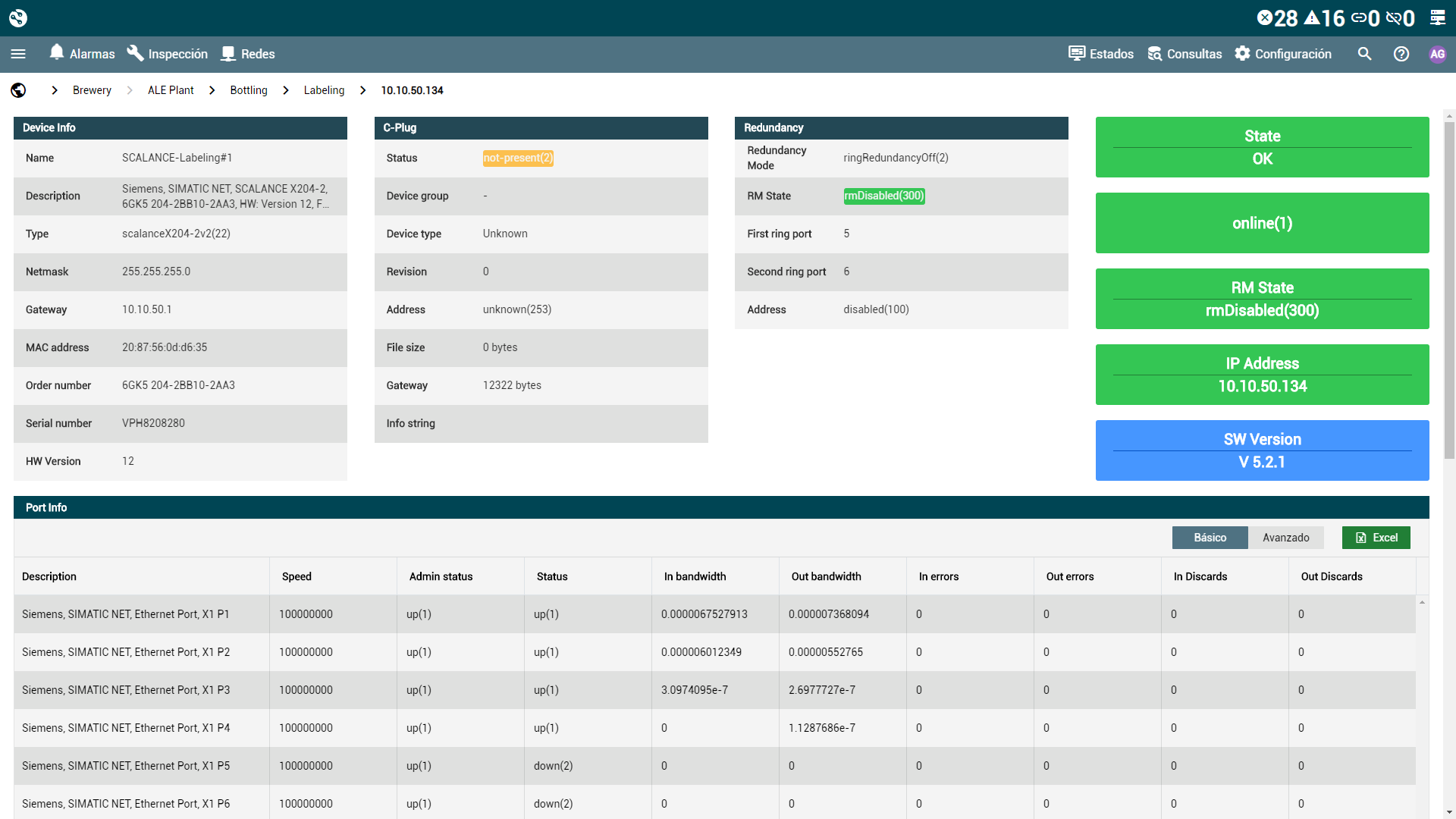 Visualise the relevant information of your devices
In industrial sectors every device, system or technology are designed to develop a particular function in a very efficiency and specific way, so its monitoring must be specific, too.
With the customizable NetinDS templates it is possible to integrate in an only display and monitoring tool all the relevant information of an equipment.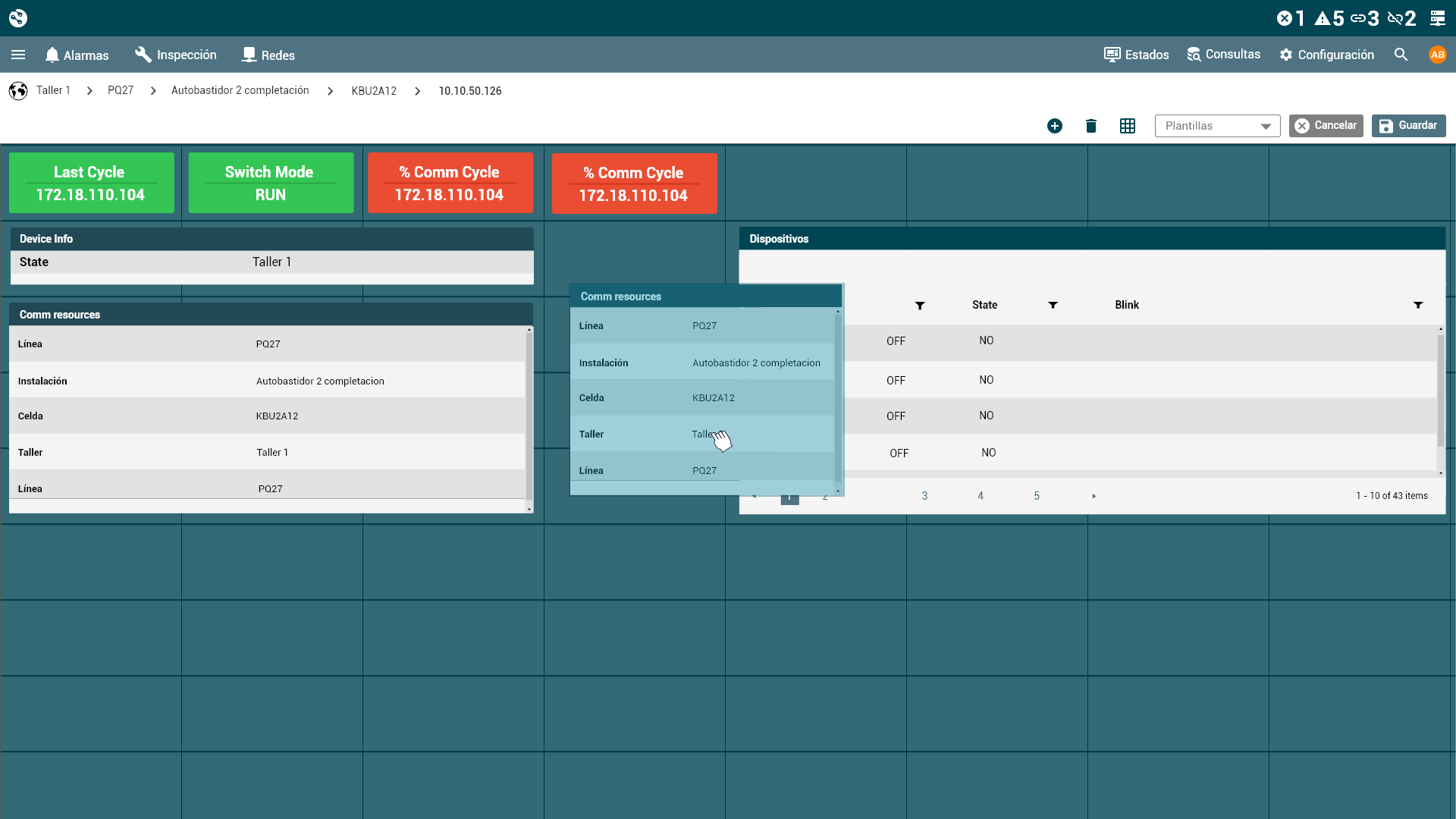 Design your own display
The NetinDS "device panel" is design to be configurable by using customizable widgets to represent all the information, from an only equipment, as you wish.
It is possible to create several devices panels for an equipment, so all the information is accessible and can be organise in the way more convenient for you, by roles or information types.